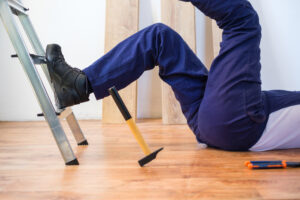 Have you been involved in any workplace accidents that weren't your fault? Has it meant that you suffered injuries? Perhaps you are now worried about what to do now?
We will explain key things you need to know and also outline what you can do next. If you would like more specific information, why not:
Call us on the number at the top of this page?

Contact us directly through the website?

For more general information on workplace accident claims, read on.
5 Things You Need To Know About Workplace Accidents
You Cannot Be Sacked For Making A Claim After An Accident At Work
You may be worried about claiming if you have been involved in any workplace accidents. However, not only is firing an employee for making an honest personal injury claim unfair, it is against employee rights.
Being sacked for a sincere personal injury claim can be considered unfair dismissal. You have a right to start a truthful claim if you have been injured in an accident that wasn't your fault at work.
Unfair dismissal refers to firing someone for something that wouldn't be considered fair. For example, if you have asked for flexible working, you have joined a union or applied for paternity/maternity leave, these are unfair reasons to dismiss someone. 
Constructive dismissal refers to events where you have no other choice but to leave your job. These reasons include:
Your wages aren't being paid

Unreasonable changes to work, such as being given night shifts when your contract is for days

Your employer allowing or encouraging other employees to bully you
Remember that you have a legitimate right to claim if you have been injured at work and it wasn't your fault. If you are unfairly dismissed, you could also start a separate unfair dismissal claim. 
Employers are also legally obligated to have some form of insurance in place in the event of personal injury claims linked to workplace accidents. This is outlined in the Employers' Liability (Compulsory Insurance) Act 1969. Having insurance in place will not only protect a business from compensation costs but will also not discourage employees from making legitimate claims.
Over Half A Million People Get Injured At Work Each Year
According to statistics provided by the Health and Safety Executive (HSE) for the year 2019/20, 693,000 workers said they suffered workplace injuries in the Labour Force Survey. 
Employers have a duty of care to take appropriate measures to ensure your safety in the workplace. This is outlined in the Health and Safety at Work etc. Act 1974 (HASAWA) as well as The Workplace (Health, Safety, and Welfare) Regulations 1992.
Measures employers can take include providing adequate training to workers and well-ventilated, well-lit, and tidy spaces to work in.
Failure to live up to this duty of care could constitute a breach. What's more, if a breach of this duty of care directly results in you being injured, you may be interested in starting a claim. 
Your employer is obligated to keep you reasonably safe at work. However, they are also obligated to report accidents, injuries, and near-misses. This is outlined in the Reporting of Injuries, Diseases, and Dangerous Occurrences Regulations 2013 (RIDDOR). 
This is designed to identify any weaknesses in your workplace premises and assess if workplace accidents are likely to happen again. If so, any data collected can lead to ensuring they do not.  
The Most Common Accident At Work Is A Slip, Trip, and Fall
In terms of workplace accidents, the most common is a slip, trip, or fall accident. As stated by the HSE in their report "Non-fatal injuries at work in Great Britain", 29% of those in 2019/20 were falls, slips and trips. In addition, this was the dominant injury type.
There are a number of ways this accident type can occur. For example, you may slip as a result of:
Improper wet floor sign use

Trailing wires

Improper footwear being provided: depending on the work you do, your employer may have an obligation to provide work boots
This could result in injuries to the back, pelvis, spine, head or elbow. If this happens to you at work, seek immediate medical attention. Not only is this important for your own health, having a record of injuries as soon as they happen may strengthen your claim. 
Workplace accidents may seem daunting but we can connect you to a panel of solicitors who are ready to help you. To find out more, get in touch with us today. 
The Construction Industry Sees The Most Fatalities Each Year
Working in the construction industry can carry a higher risk of workplace accidents. According to construction statistics in Great Britain as provided by HSE for 2019/20, there were 40 deaths in the construction industry. In addition to this, in 2020/21, there were 39 fatal injuries, outnumbering every other industry in Great Britain.
Those within some construction roles are also more likely to sustain certain illnesses compared with those in other industries. For instance, contact dermatitis is twice as common amongst some construction workers (such as bricklayers and plasterers) in comparison to other occupations. Those in construction are at a higher risk of occupational cancer. 
When claiming for workplace accidents, you can generally start a claim up to three years from the date of your injury. Alternatively, you could have 3 years from the date you gained knowledge that negligence at least contributed to your injuries.  
If you were under the age of 18 when you were injured and nobody claimed on your behalf, the 3-year time limit starts when you turn 18. If you are not an adult or you lack the mental capacity to claim, a litigation friend can be appointed to help you with your case. 
Should any workplace accidents have resulted in an injury that wasn't your fault, speak to a personal injury solicitor to see if you may be entitled to compensation.
Over A Million Workers Suffer From A Work-Related Illness
We know that over half a million people sustained workplace accidents that led to an injury in 2019/20. However, according to the same HSE source, 1.6 million in Great Britain are living with a work-related injury or illness. 
There is an indication that these numbers keep increasing. One area that has seen a large increase in reports is mental health, specifically stress, anxiety, or depression. However, the HSE does not provide a reason as to why this is happening.
However, the relatively recent awareness of mental health, especially in men, could be attributed to mental illness being more widely recognised. Mental health first aid training is a relatively recent phenomenon, only being introduced in 2007 according to MHFA England.
Source: https://mhfaengland.org/mhfa-centre/about/our-history/
Occupational respiratory diseases have also seen an increase, according to the HSE. This includes asthma and chronic obstructive pulmonary disease. 
This article should not be interpreted as medical advice. If you are concerned that you have sustained an injury as a result of workplace accidents, speak to a doctor. 
Get Free Legal Advice If You've Been Injured In A Workplace Accident
If you have been injured in workplace accidents that were not your fault, you may be interested in getting in touch. Consequently, our panel of solicitors could help you get the best outcome possible for any claim related to workplace accidents.
Should you choose to use the services of a personal injury solicitor for a claim, you could be represented under a No Win No Fee agreement. This means that if your claim was unsuccessful, you would not have to pay the costs for your solicitor. However, if you are successful, you will pay a fee for success that is deducted from your compensation. This fee is a small percentage fee taken off the top of your compensation.
If you are interested in making a claim and think No Win No Fee might be right for you, why not get in touch? You can:
Call us on the number at the top of this page

Contact us directly through the website
Why not check out more of our guides?